10 Reasons why Bath Christmas Market is unmissable
Cosy up with a loved one this winter and make the most of all these festive things to do near Bath.
Each and every year crowds gather for the Bath Christmas Market, making it a quintessential part of spending your Christmas in Somerset. Here are 10 reasons why you need to visit the Bath Christmas Market.
ONE.
Over Christmas, the city of Bath becomes even more magical. You could witness some of Bath's most spectacular sights sparkle some more, with glistening Christmas decorations and the cheerful echoes of carol singers narrating the festive scenes.
TWO.
The Bath Christmas Market recently won an award in the Event Category in the Bath Life Awards 2017.
THREE.
Local businesses are proudly supported by the Bath Christmas Market. In fact, 80% of the wooden chalets are occupied by businesses from South-West.
FOUR.
Not only does the Bath Christmas Market support local businesses, but they're proud to say that 75% of goods at the market are handmade in the UK.
FIVE.
There are even more chalets this year – approximately 60 more than last year in fact. The market will also be spread across more of Bath, extending to Southgate Street, Union Street and Hot Bath Street.
SIX.
There are over 200 wooden chalets, which means there is certainly something for everyone. Ranging from handcrafted gifts, decorations, jewellery, toys, food and more.
SEVEN.
Local charities are supported at the market. Every day a local charity will occupy a chalet to raise awareness, raise funds and raise their charity profile.
EIGHT.
The Christmas festivities stretch even further afield. Bath on Ice and Glow in the Dark Mini-Golf will return to the Royal Victoria Park, in the centre of Bath. From the 17th November 2017 – 2nd January 2018 you will be able to have fun skating on the outdoor ice-rink and can try your luck on the illuminated miniature golf course.
NINE.
Christmas comforts will fill the streets of Bath. So, prepare to soak up the heavenly smells of cinnamon infused mulled wine, roasted chestnuts, and homemade mince pies.
TEN.
After an eventful afternoon of Christmas festivities, what better way to wind-down than at our hotel? Extend your Christmas celebrations at the Limpley Stoke Hotel and enjoy a cosy evening with a loved one.
Don't miss out on the UK's favourite Christmas market, which will take place from 23rd November – 10th December 2017. If you want to spend your Christmas in Somerset then book your stay at our hotel today. For the best rates, book directly by clicking here or call us on 01225 723333.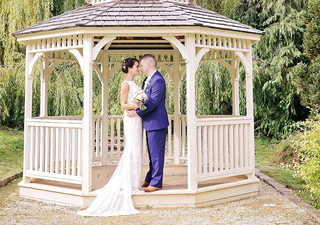 On selected dates including Saturdays throughout the year, you can celebrate your special day in style at the Limpley Stoke Hotel and thoroughly enjoy our magnificent setting overlooking the glorious Limpley Stoke Valley at a discounted price.
Read more