An Office Managers Guide to Last-Minute Christmas Party Planning
To give you a helping hand when planning your last-minute party, our events team at the Limpley Stoke Hotel have carefully selected some top tips and advice. As one of the best hotels near Bath for parties, we know a thing or two about party planning so read on to find out more.
Party Venue
The best party venues are those with spacious dancefloors and great music. Even better, try and find a venue that will do in-house catering as this will take some stress off your shoulders. Let the food experts work their magic and provide you with some delicious party food. Here at the Limpley Stoke Hotel, we offer a special Christmas Party Menu which has been carefully selected by our chefs.
Party Theme
Have a theme to set the scene! Think Christmas classics, from 80's Night to Masquerade Balls. Having a theme will help guide you in your last-minute party planning as it will paint a picture in your mind of what you want your party to look like and how you can achieve that.
Entertainment
No Christmas party is complete without classic tunes ringing in your ears in the taxi journey home or when you retire to your room. It would be ideal if you found a venue who can provide a resident DJ, who can promise to play those festive melodies and overplayed chart-toppers to keep your guests on the dancefloor all night long. Christmas is one of the busiest seasons, but even if it is last minute, be sure to ask around to see if you can hire out some entertainment.
Simple yet effective
Welcome your guests with festive treats, such as mulled wine or mulled cider to kick-start the celebrations. Decorating your venue with Christmassy colours will also be very effective. Think red and green, icy whites or sparkling shades of gold. Our experienced events team at the Limpley Stoke Hotel have an eye for detail and can help you create your perfect Christmas party scene.
Want the party but not the planning? We offer a great selection of Party & Themed Nights, from Disco Party Nights to 007 Licence to Thrill themes.
Our events team are ready to make your Christmas in Somerset fantastic. Take a look at our brochure today to find out more, or if you would like to enquire click here or call 01225 723333.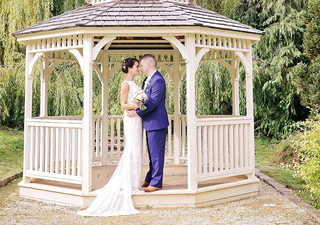 On selected dates including Saturdays throughout the year, you can celebrate your special day in style at the Limpley Stoke Hotel and thoroughly enjoy our magnificent setting overlooking the glorious Limpley Stoke Valley at a discounted price.
Read more