Romantic Things to do in Bath this Valentine's Day
There is no better place to celebrate your love, than in the world heritage city of Bath. To help you plan your romantic getaway, our events team have put together some top picks;
Romantic Sightseeing
Grab your tourist boots and explore the city of Bath. First stop, the Roman Baths, which is in the heart of the city. Walk through the remarkable remains of one of the greatest religious spas of the ancient world. You will witness the thermal springs rise, which to this day, still flow with natural hot water. The history doesn't stop there.. As you wander the cobbled streets of Bath, you will continuously stumble across Georgian architecture and history, including the Bath Abbey, the Royal Crescent and the Jane Austen centre.
Spa Surprise
Who doesn't love a surprise? On your romantic retreat to our hotel near Bath, why not surprise your other half with a trip to the Thermae Bath Spa, which will leave you feeling fabulously pampered. The Thermae Bath Spa offers detoxing spa experiences, just as the Romans did in Bath, with a contemporary twist of course. Here, you can bathe in the stunning roof-top pool, detox in the steam room, or book yourself in for a relaxing massage or facial.
Evening Entertainment
As they say, cities never sleep. So, be sure to make the most out of your stay at our hotel near Bath. After a day or sightseeing and romantic surprises, why not dine in our Restaurant, followed by a glass of bubbly in our Valley Bar to celebrate your love. Then, head back into Bath for an evening of entertainment at the Theatre Royal Bath, which is one of the oldest and most beautiful theatres in Britain. Here, you can experience spectacular story telling through their plays, expressive dance performances and show stopping musicals.
Now is the perfect time to book your stay at the Limpley Stoke Hotel near Bath. Take advantage of the idyllic village setting and wake up to spectacular countryside views this Valentines. For the best gauranteed rates and offers at our hotel near Bath click here or call 01225 723333.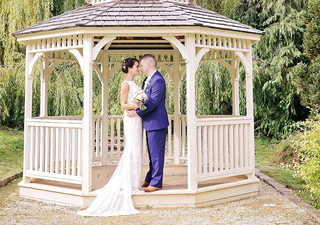 On selected dates including Saturdays throughout the year, you can celebrate your special day in style at the Limpley Stoke Hotel and thoroughly enjoy our magnificent setting overlooking the glorious Limpley Stoke Valley at a discounted price.
Read more