Christmas in the South West: What not to miss in Bath, Bristol and Wiltshire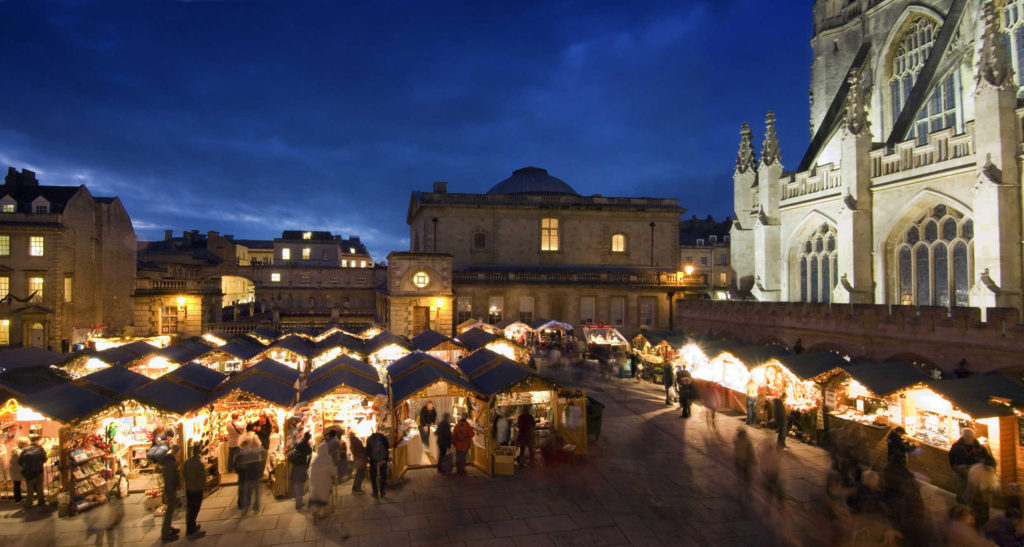 Less than two months for Christmas and we can already feel it in the South West: The smell of mulled wine, the mince pies, the sound of the Christmas carols sung in the streets…
In Bath, the lights switch on at Southgate (the city centre), on the 15th of Novemberwill be marking the real countdown to Christmas whereas in Bristol, it will take place on the 9th of November at the Cabot Circus Shopping Centre.
If you're planning a Christmas Party or a winter getaway near Bath, the Limpley Stoke Hotel located at only 4 miles from the City centre is an ideal setting.
What to do in the South West
Bath Christmas Market and Bath on Ice
From the 22nd of November to the 9th of December the annual Christmas Market is set in the city centre, surrounding the beautiful Abbey and the Roman Baths. You can browse through the different stalls and purchase a variety of products from local producers.
Also, as every year, Bath on Ice will be installed at the Royal Victoria Park, near the Circus. There are plenty of fun options to do: You can skate in the ice rink, play a game of glow-in-the-dark mini golf or enjoy a fantastic meal at their premises.
For more information, you can check out these websites:
Bristol Christmas Market
At only 30 minutes by train from Bath, Bristol offers a varied selection of cultural and fun activities during November, December and January.
For instance, the several Christmas Markets placed in different centric locations, where we can browse and buy various local-produced gifts and food. Here are some of the most important ones:
Bristol Christmas Market: 09th – 23rd December
Harbourside Christmas Market [Only weekends]: 21st November – 16th December
Christmas St Nicholas Market: 18th November – 11th December
Also, from the 17th of November to the 6th of January 2019, the Winter Fair will be placed at the Millennium Square. With plenty options for entertainment (including food stalls, an ice rink and a giant wheel), the Fair is a fantastic way to enjoy the spirit of winter in Bristol's city centre.
For more info on dates and addresses, you can check out Visit Bristol's website
Enjoy a fantastic Winter getaway: Book your accommodation with us

The Limpley Stoke Hotel is in a lovely Georgian-styled building overlooking the Limpley Stoke Valley, a fantastic landscape (especially when it snows), making it ideal for a Christmas Getaway.
Located at only four miles from the centre of Bath, the Hotel is accessible by Bus (The First Bus services are at only five minutes from our premises) or car – we have free car parking spaces for our guests.
We offer a selection of various comfortable, well-equipped rooms with modern day facilities with stunning views*.
Celebrate Christmas and NYE at the Limpley Stoke Hotel
Throughout December, we offer a selection of Christmas themed and NYE parties at the Hotel. Also, if you prefer to celebrate your own, we can host a maximum of 200 guests and provide you with plenty of options for a superb party atmosphere.
To see our Christmas and NYE parties and menu, please click here. Please note that since the publication of this brochure, the following changes had been made:
The Wild West Theme night on the 22nd of December has been cancelled. In its place there will be an 80's themed night.
The James Bond Party (15th Dec) and the 80's theme night (8th Dec) are sold out.
* Subject to availability.