The Very First Steps To Planning Your Wedding
Just got engaged? Congratulations! We are sure that you are already thinking about planning your Bath wedding!
During such a magical time knowing where start may seem a little daunting! To help you find your feet, our wedding and events team have some advice on how to start planning for your special day.
Set a (rough) date
As soon as you're engaged your friends and family will be desperate to find out when you are going to tie the knot. When in reality, you won't know yourself until you have found your perfect venue and saved the date. As one of the most idyllic wedding venues near Bath, we can't stress how important it is to sit down with your partner and think about what time of the year you would ideally like to get married. Be sure to avoid any dates which may clash with other holidays or family events taking place and don't forget to discuss your budget. This may not be the most romantic and fun aspect, but having an idea of your budget will help with the whole planning process.
Make your wedding dreams a reality
Step back and simply think about what kind of setting you would like to say your vows in. Be sure to make a list of what you want and tour around different wedding venues – not only is this great for inspiration, but wedding fayres such as ours can help see the bigger picture. Once you have found your ideal venue, the little details will slowly come together and you will feel even more inspired on what kinds of décor, cake and flowers you would like to style your venue. To arrange a one-to-one tour around our wedding venue near Bath email weddings@limpleystokehotel.co.uk.
Do some research
Spend time flicking through magazines, searching the internet and attending wedding fayres to help find your perfect style of wedding accessories. Whether it's for floral arrangements, bridal dresses or bespoke wedding cakes, once you've done plenty of research you'll know what to look out for.
It takes a lot of time and dedication to see your dream day materialise and with the expert advice from our passionate Wedding Co-Ordinator, we hope that we can make the planning of your special day much simpler. We have a range of Bath wedding offers that have been designed to help ease the pressure, so do enquire.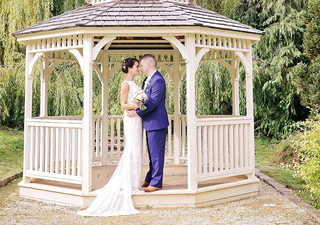 On selected dates including Saturdays throughout the year, you can celebrate your special day in style at the Limpley Stoke Hotel and thoroughly enjoy our magnificent setting overlooking the glorious Limpley Stoke Valley at a discounted price.
Read more