Places to Eat in and Around Bath
After a day of exploring the beautiful city of Bath, it's time to sit-back, relax and dine out. But the burning question is, where?
If you're staying at our Georgian hotel near Bath, then why not wind down in our Valley Bar? Enjoy the comfort and tranquillity of our countryside bar, where you can relax and admire the stunning Somerset surroundings. Indulge in a delicious cream tea to satisfy the sweet tooth or sip on a couple of refreshing cocktails whilst dining from our bar menu. Or, for a traditional dining experience, head to our Viaduct Restaurant. Using locally sourced ingredients, we serve delightful, English style food and continental dishes.
If you would like to venture further afield, here are just some of our favourite places to eat in and around Bath…
Sally Lunn's
If you need an afternoon pick-me-up, then Sally Lunn's is the place to go. A world-famous tea and eating house, located in one of the oldest houses in Bath. Indulge in an authentic regional specialty, the legendary Bath bun to refuel your adventures – or enjoy an afternoon tea or savoury lunch. If you want to find out more about the history of Sally Lunn's Historic Eating House, click here.
Sotto Sotto
A small Italian restaurant with a unique and invitingly romantic atmosphere, situated near the Roman Baths. With the finest ingredients from Italy, they serve traditional dishes with simplicity and contemporary twists to embrace the flavours of Italy. Sotto Sotto is popular, so we recommend you book in advance to reserve your place in this incredible Italian restaurant.              (T: 01225 330236).
The Eastern Eye
Spice up your evening with a delicious meal at this traditional curry hotspot in Bath, which is highly spoken of by the locals. The restaurant is well worthy of its glorious acclaim, it has a plentiful menu, fantastic flavour fusions, and inviting atmosphere.
Hudson Steak House
Voted number 3 in the UKs top 10 Steakhouses, we highly recommend you give this restaurant in Bath a visit. The Hudson Steak House is a Bar & Grill set in a warm and stylish conversion of a Victorian pub, with an open kitchen, illuminating space and views over the park. Without a doubt, you will be seduced by their menu. (T: 01225 332323)
Opa!
This Meze Bar & Restaurant pays homage to the culinary treasures in Greece. Opa is a Grecian gem, they serve a wide variety of meze, grills, fish dishes and more. The restaurant offers a fun and vibrant atmosphere with friendly staff, in a unique underground setting. Not only is the food cooked with flavour and flare, Opa have a wonderful range of cocktail concoctions, which are perfect for evening of celebrations.
Book a table at our restaurant near Bath, or book your stay here or call us directly on 01225 723333.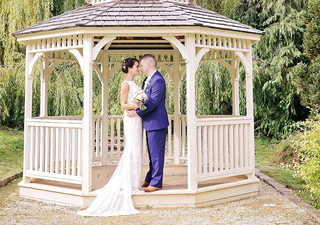 On selected dates including Saturdays throughout the year, you can celebrate your special day in style at the Limpley Stoke Hotel and thoroughly enjoy our magnificent setting overlooking the glorious Limpley Stoke Valley at a discounted price.
Read more