Unique Bath Inspired Wedding Favours
Wedding favours are a way to thank you to your guests; a little token of your appreciation for sharing your special day with you. Your wedding favours can be a reflection of your personality. They can spark a laugh, strike a memory or compliment your wedding theme. As a wedding venue near Bath, we have come up with several Bath inspired wedding favours, which could make your wedding day that extra bit special.
With these Bath inspired wedding favours, your guests will go home with a big smile on their faces and will have something special to remember your wedding day by. Here are just some of our Bath inspired wedding favour ideas…
Taste of the Local Tipple
Dedicate a carefully crafted ale to your guests, so they can enjoy a local tipple to toast your marriage! Bath Ales are an independent brewery who craft deliciously distinctive beers to please the palate. From the bitter-sweet flagship amber ale, to the chocolaty stout, you can choose from a wide range of ales which are unique to you and your guests.
Scented Surprises
As a luxury Bath inspired wedding favour, you could create your own unique candles for your guests. The Bath Candle Company offer a range of beautifully crafted and delightfully scented candles. These candles have been designed and inspired by the romantic city of Bath, so they are the perfect idea for a unique, Bath inspired wedding favour.
Sweet Treats
Tickle your guests sweet tooth, with perhaps some of these memorable and mouthwatering treats from the heart of Bath. Bath is renowned for its wonderful selection of independent sweet shops and baked goods.
The San Francisco Fudge Factory is an independent store in Bath, where they make heavenly handmade fudge. With rich, sweet and tantalising flavours such as rum and raisin, clotted cream and mint – their fudge really will leave them feeling sweeter than ever before.
Another local gem is The Bath Sweet Shoppe where you can create and customise sweeties or lollipops. Their professional team of 'sugar craftsmen' and' women' can create sweets of your choice, so why not design some with personalised thank you messages on to really show your upmost appreciation.
'Let The Love Grow'
As a unique and thoughtful wedding favour, head to your local garden centre in Bath. Carefully select some seeds to share with your guests and individually package these in little envelopes. You could decorate these envelopes to match your wedding theme and add your Bath inspired decorative touch. To make these even more unique, write personal poem on the back of the envelope as a thankful gesture for your guests.
Personalised Puzzle Pieces
Decorate your guests table with personalised jigsaw pieces. To make these puzzle pieces unique and Bath inspired, you could incorporate your favourite places in Bath as background images. Alternatively, you could personalise the puzzle pieces by engraving your name and wedding date on as memorabilia for your special day. Personalised puzzle pieces can be found on online shops such as Etsy.
Children's Party Packs
Create your own fun filled party packs to keep your young guests entertained. These could include miniature arts and crafts, bubbles, doodle books, guessing games and of course, some sweet treats from the local sweet stores.
If you would like to enquire about our elegant wedding venue near Bath, click here or speak to our Wedding Co-ordinator today on 01225 723333.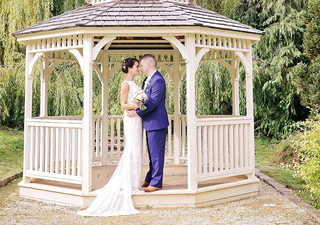 On selected dates including Saturdays throughout the year, you can celebrate your special day in style at the Limpley Stoke Hotel and thoroughly enjoy our magnificent setting overlooking the glorious Limpley Stoke Valley at a discounted price.
Read more